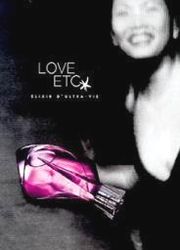 Image taken from Fragrantica
Hey everyone, sorry I don't pop by my blog more often, I will try to make more time for it.
Tonight I've been reminiscing about an old perfume I use to buy back in 2002 when I was 18. The perfume in mind was from a catalogue I use to buy all my makeup from at the time, CCB-Paris. I use to love their Agnes-B makeup and I was totally obsessed with it. They stopped selling in the UK years back, I can't remember when as I tried not to think about it too much as I was broken hearted about it, and tried to move on :p
Anyway my mum bought a perfume from an Avon catalogue by Herve Leger and something about the perfume brought back all the memories of that perfume years ago.
So tonight I decided I was going to find out the name of the perfume it reminded me of. So with some determination and only knowing it was from CCB paris and it was in a funky pink bottle I found it :)
The perfume was by Corinne Cobson and called 'Love etc', which is now discontinued as I guessed it would be.
Looking at the notes of both perfumes they are very different, so I have no idea why they remind me of each other, maybe it's the spiciness of them. The 'Love etc' had notes of pink pepper (which I absolutely love) and sweet vanilla, whereas Herve Leger doesn't (confused smiley) but there is something spicy about it to my nose anyway. Possibly it's that they both share citrus and cedar notes?! Who nose (get the little pun, anyway) I still miss that darn perfume and wish ccb paris would come back to the UK and bring back that fragrance also.
Thanks for reading, I know this post is pretty pointless but I felt an urge to share these thoughts.
Take care x